See our new video:
Sections:
Gaza's Humanitarian Crisis
Over 70 years have passed since the Nakba (the Disaster or the Catastrophe) – the forced displacement of the native Palestinian population from what became Israel. The international community is responsible for this refugee situation (see unfulfilled UN Security Council Resolution 194 of 1948). The international community is also responsible for not enforcing Security Council resolution 242; that lack of enforcement has resulted in half a century of military occupation of the West Bank, the Gaza Strip, the Golan Heights and East Jerusalem. For over 70 years the international community has not only stood by as Israel has perpetrated gross violations of individual and collective rights of the Palestinian people; many have in fact protected and supported Israel despite these crimes. The greatest violations are evident in the ongoing blockade of Gaza.
The blockade of Gaza and the unliveable conditions suffered by women, children and men is not a natural catastrophe: it must be understood in its political context.
Israel's illegal and inhumane blockade of the Gaza Strip since 2007 has created a humanitarian crisis. The blockade has deprived Palestinians in Gaza their right to health, safety and well-being, as well as the right to freedom of movement, among other fundamental human rights.
In 2012, the UN warned that Gaza would be unliveable by 2020 if the blockade continued, but in 2017 the UN's Coordinator for Humanitarian Aid and Development Activities, Robert Piper, revised that projection stating that the unlivability threshold had already been passed. According to findings of a UN trade and development report dated September 12, 2018, "The productive capacity of Gaza has been eviscerated by three major military operations and a crippling air, sea and land blockade." That says nothing of the regular smaller military attacks on the Gaza Strip.
Gaza residents live in a man-made catastrophe: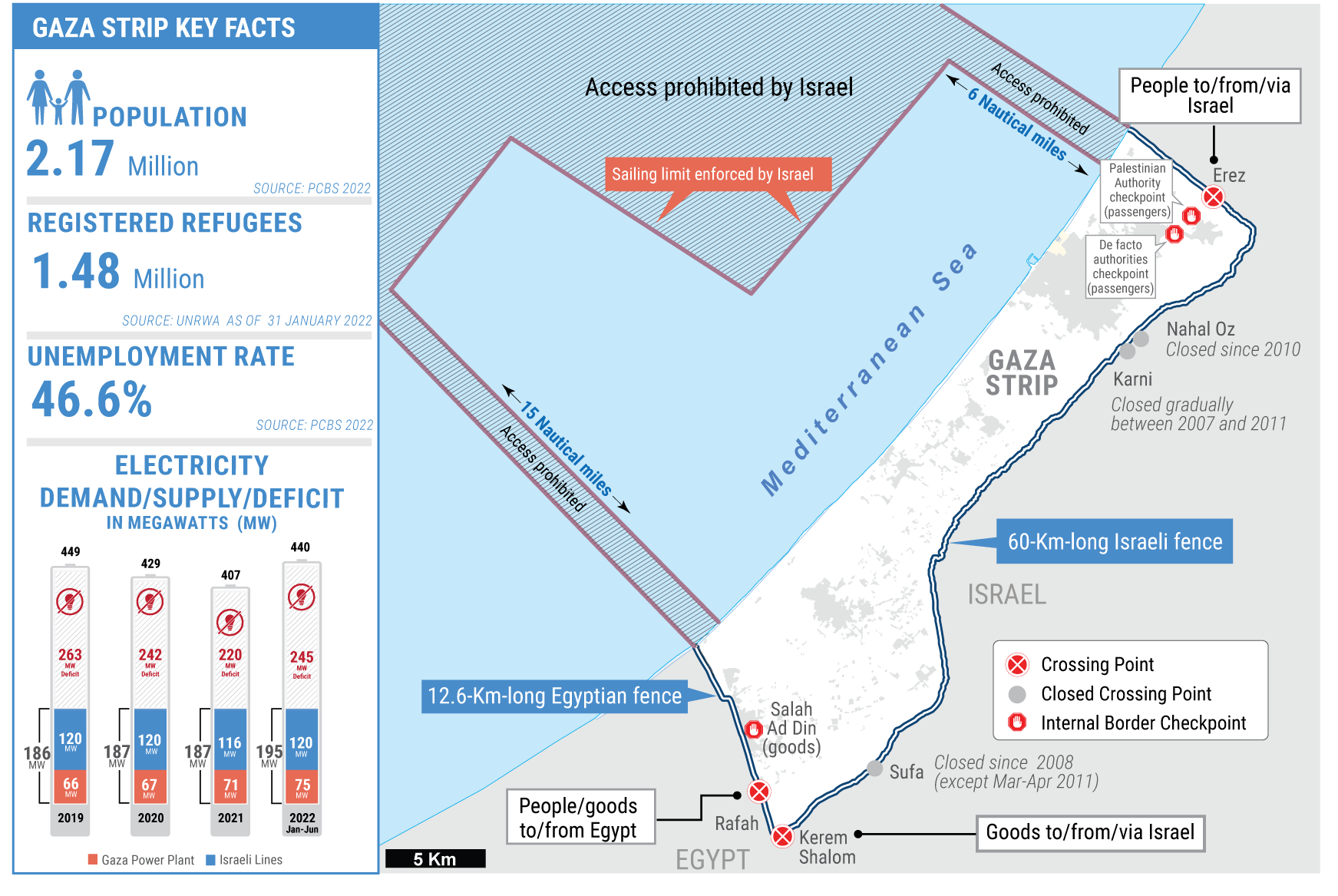 In addition, after the first few weeks of the Great March of Return in April 2018, the UN Office of Coordination of Humanitarian Affairs reported that medical facilities in Gaza, which are already over-strained by the long-standing shortages of medical supplies, electricity and fuel, are struggling to cope with the overwhelming number of casualties. Over 20,000 people were still displaced from the 2014 Israeli attacks at the time of the report in 2018.
In April 2020 as the COVID-19 pandemic is making vast parts of the world experience some restrictions of their freedom of movement, Gaza is also dealing with this threat.
The 11 days Israeli attack on Gaza in May 2021 as well as other restrictions by the occupation brought about further deterioration in the economic and humanitarian conditions.
Additional Sources
Videos
Inside the World's Biggest Prison
Gaza in Context (This short film provides necessary context for understanding the humanitarian crisis that Gaza faces today and highlights Israel's continuous military aggression against the Strip). https://www.youtube.com/watch?v=bmRPkfAN2EU&feature=emb_logo
Gaza's Environmental Crisis (This video outlines the escalating humanitarian crisis in Gaza, i.e. the lack of clean water and electricity cuts). https://www.youtube.com/watch?v=R1L23cIT-9I
Ongoing Gaza Closure: The Impact on Daily Life (Video by the Palestinian Centre for Human Rights in Gaza further highlighting the effects of the closure on Palestinian livelihood including its impacts on the agricultural and fishing sector). https://www.youtube.com/watch?v=ymVXef_C97k&feature=emb_logo